Summary
Photo 1
Photo 2
Photo 3
MIZHAVU - The Sacred Temple Drum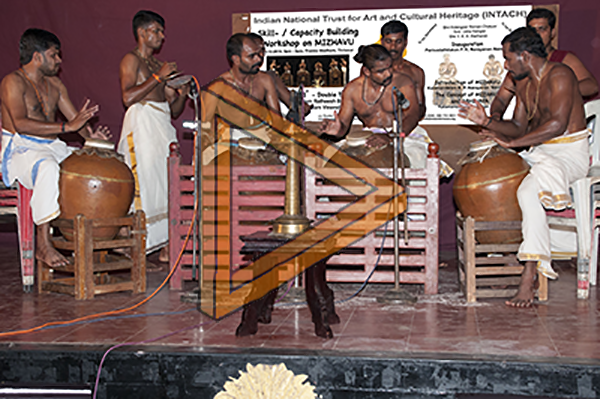 Video Documentation "Skill & Capacity Building - A Workshop on Mizhavu"
This Workshop was organised by the Thrissur Chapter of the Indian National Trust for Art and Cultural Heritage on December 20, 2014, at Thekke Madhom, Thrissur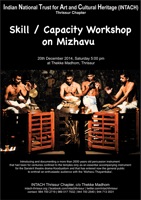 Invitation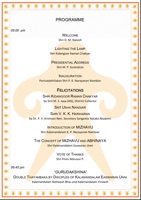 Programme
It was presided by M. P. Surendran, convenor of INTACH Thrissur Chapter and inaugurated by a living legend of Kerala's Traditional Art forms, the 88-year-old Mizhavu Maestro, Panivadathilakan P. K. Narayanan Nambiar (video part 2). Kalamandalam K. P. Narayanan gave an Introduction of the more than 200 years old percussion instrument MIZHAVU (video part 3) and Kalamandalam Easwaran Unni explained the concept of Mizhavu and Abhinaya (video part 4).
On behalf of INTACH the artists were honoured by Smt. M. S. Jaya (IAS), District Collector of Thrissur (photo left), -- to whom a book on 'Nangiar Koothu' was presented on behalf of INTACH by advocate P. S. Easwaran (photo right).
Rakesh O. M. delivered the welcome address and Co-Convenor Prem Manasvi proposed the vote of thanks.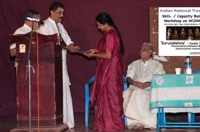 100 | 300
Advocate P. S. Easwaran
District Collector M. S. Jaya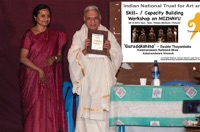 100 | 300
District Collector M. S. Jaya
Panivadathilakan Narayanan Nambiar
A Gurudakshina'- Double Thyambaka by Kalamandalam Ratheesh Bhas and Kalamandalam Vineesh concluded the workshop, presenting a fulminous and cascading firework of sounds and moods (video part 1) that explored the whole scope and range of an instrument, confined for centuries as an accompanying instrument for the Sanskrit dance theatre drama Kutiyattam and the solo performance Koothu to Kerala's temples and temple theatre halls ('koothambalam') only.
The MIZHAVU has entered now the general public to enthral an enthusiastic audience of art lovers with the MIZHAVU THYAMBAKA.
This ensemble of young artists demonstrated it again and impressively how a classical instrument, reflecting in its purest way Kerala's music traditions, can be used in a language that expresses the feelings, the ideas and the moods of the next generation.
The Speakers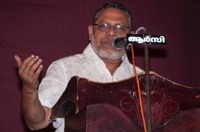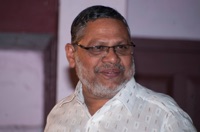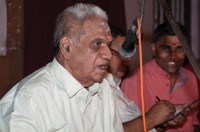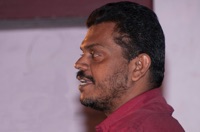 M. P. Surendran | K. P. Narayanan Nambiar | Panivadathilakan P. K. Narayanan Nambiar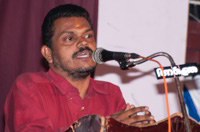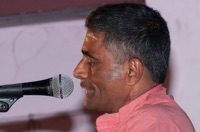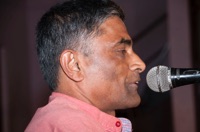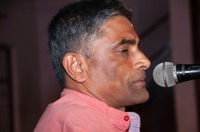 2.1 | 2.2 | 2.3 | 2.4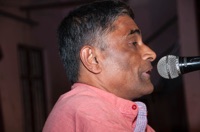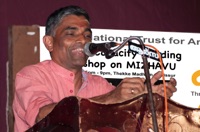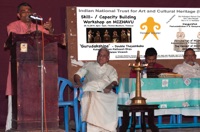 3.1 | 3.2 | 3.3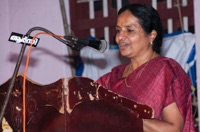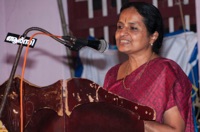 4.1 | 4.2
The Honouring Ceremony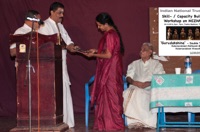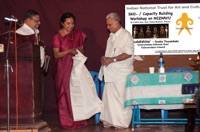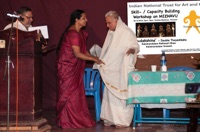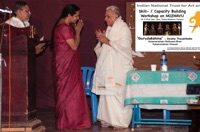 5.1 | 5.2 | 5.3 | 5.4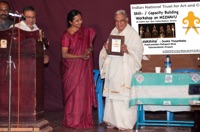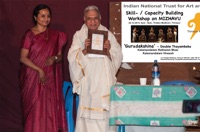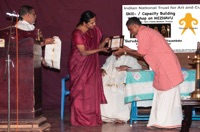 6.1 | 6.2 | 6.3 | 6.4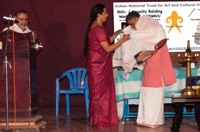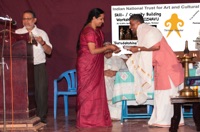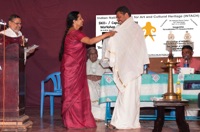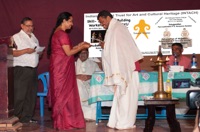 7.1 | 7.2 | 7.3 | 7.4